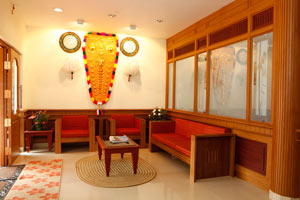 Hotel in Parassinikadavu, Thapasya Heritage, a classic best hotel in Parassinikadavu, in the land of Sree Muthappan, near to Kannur International Airport (30 kms), represents Kerala hospitality of our gods own country at Parassinikadavu, in its true sense. Here you can experience perfect relaxation and luxury accommodation in comfortable surroundings with the sun streaming through large windows into modern bed rooms featuring crisp, white linen, high ceilings and space, lots and lots of space. Thus it outstands in a unique calm and quiet homely atmosphere with a beautiful ambience and spectacular scenic view to the river, as one of the best hotels in Parassinikadavu providing accommodation to relax and unwind, to make yourself comfortable and rediscover the power of Sree Muthappan or whatever captures your imagination, the possibilities are endless.
Thapasya Heritage, bang in the heart of Parassinikadavu is located on the temple road, opposite A.K.G. Mandiram with walk able distance to the temple and Parassinikadavu Bus stand. It is safely insulated from the din and bustle of the town.
Make Muthappa darshan a remarkable event with Thapasya Heritage….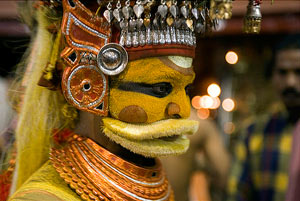 After a long journey, when you reach Parassinikadavu, to have darshan and blessings of Sree Muthappan, you would need a peaceful place to relax. Thapasya Heritage who is devoted to serve the devotees of Sree Muthappan offers you a clean, comfortable and peaceful accommodation facility.
Here you will experience a fusion of peace and pleasure. This hotel is renowned for its peace and solitude soothed by the natural environment, designed perfectly to attract the cream of domestic and international guests. In fact, large crowds from all over the world flock here to enjoy it. Food of premium quality is provided on request. At here we give utmost importance to customer care and anticipating your needs.