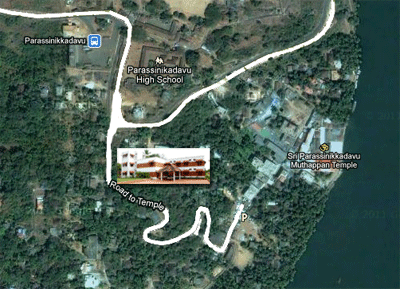 Thapasya Heritage
Opp. AKG Mandiram,
Temple Road,
Parassinikadavu,
Kannur- 670563
Ph : +91 497 2782944
+91 497 2781194
Mob : +91 9447065108
Email:thapasyaheritage@gmail.com
Web : www.thapasyaheritage.com
Accessibility
AIR: Nearest airport Kannur International Airport (30 kms to the hotel), Karipur International Airport, Kozhikode and the Mangalore Airport
which is 93 km and 120 km respectively from Kannur town.
RAIL: Kannur railway station about 20 kms to Parassinikadavu.
ROAD: An excellent road transport system connects Parassinikadavu to all major towns from Parassinikadavu.
From Kannur, a 20 minutes drive will take you to Parassinikadavu.
Thapasya Heritage is also easily accessible to Parassinikadavu Ayurveda Medical College (2 kms), NIFT Kannur (3 kms), Govt. Engineering College Kannur (3 kms), KERALA ARMED POLICE IV Battalion, Mangattuparamba, Kannur (4 kms) and Kannur University, Mangattuparamba (5 kms).